Raimondo Inconis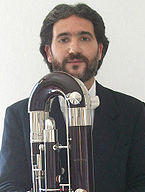 Inconis Raimondo joined the Sicilian Symphony Orchestra in 1984 as Bassoonist and Contrabassoonist after serving 4 years as first and
second bassoonist for the Teatro Lirico of Cagliari.
Mr. Inconis earned his music degree at University of Cagliari "Giovanni
Pierluigi da Palestrina" in Italy.
Inconis is estimated and appreciated like tireless and scrupulous
investigator of sources biographical and historians of the contrabassoon,
there has been employed in 1994 for the publishing house Ricordi of
Milan at the achievement of the book: "Il Controfagotto, Storia e Tecnica
(The Contrabasson, History and Technique) Publisher: Ricordi";
catalog number ER 3008 / ISMN 979-0-041-83008-7.
Inconis is currently Professor of Bassoon at University of Music
A. Corelli of MESSINA (Italy).
Copyright © 2009- Contrabassoon.org - All rights Reserved
||| Privacy / Legal Notice |||
This web site was made with Nvu